Advice on how to place a domain controller in case of StarWind Virtual SAN usage
Posted by vitaliy kapshytar on July 17, 2015

Background
Starting from Windows Server 2012 R2 it  became possible to deploy a Domain Controller (DC) as a VM. Having a DC as a VM on StarWind device inside the cluster is not the best idea, since sometimes a cluster cannot be started if StarWind High-Availability device where DC VM is located is unavailable. Unavailability of the DC may cause connection or authorization issues, which makes impossible to get the cluster working. There is a vicious circle, which takes a lot of time to break it.
Resolution
The situation described above can be avoided if the DC is deployed as bare metal server or as a VM outside the StarWind High-Availability device. Or, at least, a replica of the DC should be outside the HA device to make possible the start of the Microsoft Failover Cluster if it depends on the DC.
The diagram below provides an example for Domain Controller location in case of 2-node hyperconverged scenario with StarWind Virtual SAN.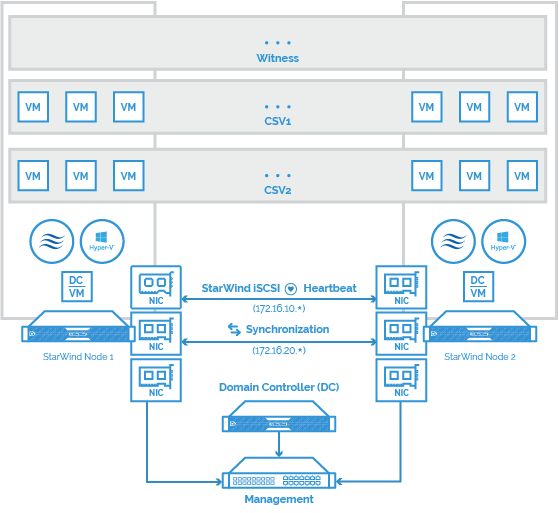 Request a Product Feature
To request a new product feature or to provide feedback on a StarWind product, please email to our support at support@starwind.com and put "Request a Product Feature" as the subject.